Lymington Sea Water Baths History
Set within the popular Georgian market town of Lymington, you will find the oldest open air sea water baths in the UK. Dating back to 1833 the baths have historically gained national interest for their health giving waters and natural mud minerals. Today, young and old still swim in the waters and enjoy the stunning location with views over to the Isle of Wight.
18th Century
The first records of bathing in this district date from the late l8th century. At this time people mostly bathed in sea water for its health-giving qualities. The drawing by Thomas Rowlandson below shows Mrs Beeston's baths (the building on the right) in 1784.

In l825, the writer David Garrow mentioned two bath houses at Lymington "one in Bath Lane, known as Legge's Baths, and another beyond called Beeston's Baths." The latter advertised "a warm bath for 3/6, shower 2/6, a cold bath with a guide 1/-, without a guide 6d". The guide was a man who held you up with a rope. Garrow says that Lymington "being situate so much nearer the sea than is Southampton, its waters are considered more beneficial in the instance of sea bathing".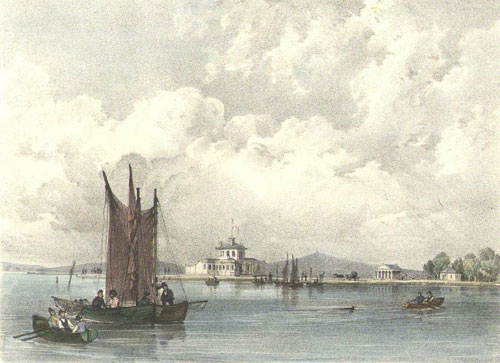 19th Century
The current sea water baths date back to 1833 when the Lymington Bath and Improvement Company was set up. The bath house was built shortly afterwards and is now the club house for the Lymington Town Sailing Club. As time went on the baths struggled to compete with others in the area, particularly at Bournemouth. In 1855 they were sold to George Inman who owned a boat building company further up the river. In 1886 the Lymington Sea Baths Company leased the baths from Inman.
20th Century
The baths continued under several different owners until 1929 when they were taken over the by the Lymington Corporation. The 1930s were something of a golden period for outdoors baths and lidos with people flocking to bathe on bank holidays in the summer. Today the baths are owned by Lymington and Pennington Town Council.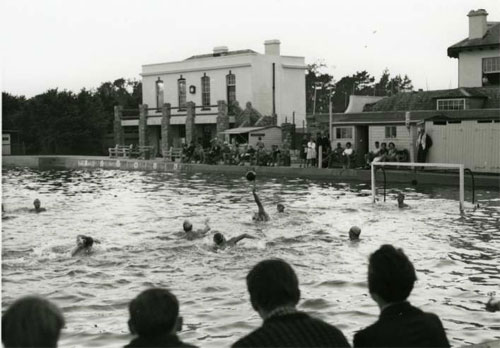 Information provided by St. Barbe Museum with assistance from Mary Smith and Jude James.
21st Century
With growing interest in preserving these historical sites for future generations the Baths gained Grade 2 listed status in 2012. Now under new management the site is set to increase its range of activities focusing on enriching the experience for the local community and tourists alike. As well as paddle boards and hot tubs, we have installed the South Coast's biggest inflatable obstacle course.
We can accommodate private parties and groups up to 400 people so if you are planning a private party, corporate day or charity event please get in touch with us so we can try to help! Click here to enquire.